Saying "I'm sorry", and taking responsibility for actions, is a amazing skill that can be learned and strengthened.
Here's a formula for giving an apology and repairing, with kudos to @sylviaduckwort. Using this as a framework can help strengthen your relationships with others, and with yourself.
P.S. Pay special attention to what an apology is, and is not.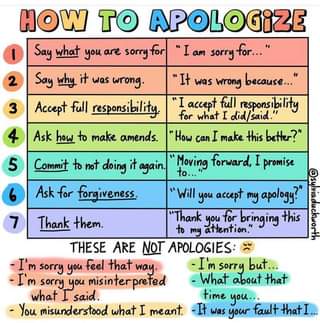 ---
So I ask:
Who in your life is deserving of an 'I'm sorry" from you?
---
Continue your growth with me!
Small groups and webinars are coming later this summer. If you have any interest in the following (or have questions), please reply back to this email and I'll make sure that you receive the first chance at registration!
Parents' Perspective vs Kids' Reality (chat/support group)
Emotional Intelligence (webinar and group option)
Mindset Shift Workshop (group + individual coaching included)
The Power of Forgiveness (group + individual coaching)
What is Enough? (webinar and group option)
Recovery Matters (chat/support group)